It's time for Triple Threat Brazen again! I've got another set of sexy Brazens that just got released today, the 8th of September.
***ARC courtesy of Entangled Publishing in exchange for honest review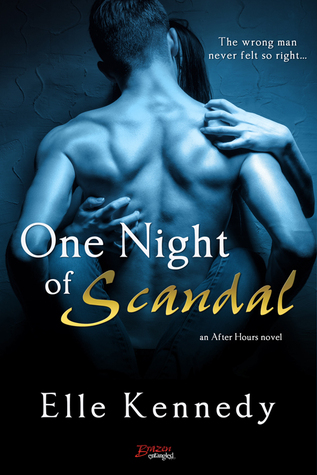 Title: One Night of Scandal (After Hours #2)
Author: Elle Kennedy
Publisher: Entangled Publishing
Date Published: September 8, 2014
Goodreads | Amazon | Barnes & Noble
My Rating:

Remember anti-social Reed and cute and bubbly Darcy from Skyler and Gage's story in One Night of Sin? THIS IS FINALLY IT. Ever since I've read the first book, the relationship between Reed and Darcy had intrigued me so much. And I am so in love with this book, from that sexy cover to every page turn.
Because Elle Kennedy writes abso-frggin-lutely HAWT books.
Notorious is Reed Miller's middle name. He's a playboy, a kinda of a laid back guy, impulsive and definitely not the type to take anything seriously, especially relationships except for the business he co-owns with his best friends... Well, sometimes, he does forget to stock the bar. But there's nothing more notorious than lusting after your best friend's girl, and wanting more upon finding out about their break up. And he's never wanted anyone else until she came along.
Darcy Grant is on the lookout for passion. She's cute, adorable, goody-two-shoes and an elementary teacher at that. After a mutual breakup with AJ realizing there hadn't been any sparks at all, Darcy is ready for that casual fling, and Reed might just be the perfect candidate. But is sleeping with your ex-boyfriend's best friend a rational thing to do?
I seriously love how this book just oozed with sexual tension from beginning to end. In the first installment, One Night of Sin, we witnessed a little bit of tension breaking out between these two, with Reed acting as if he disapproves her of being AJ's girlfriend. Well boy, was he not wrong, because he definitely wanted her as HIS girlfriend instead.
"I've wanted you forever. Every goddamn time I see you, I've had to force myself not to blurt it out."
I'm also basically in love with these two characters, but the reason I couldn't give it a whole FIVE stars? Darcy. I seriously disliked how she just focused on being judgmental, labeling Reed as someone who can't stand a relationship when all he needed was to find the right girl.
And my Reed. Oh my sweet, poor Reed. He was just a heartbroken soul waiting to be fixed up. Although the story had been a little too fast to elaborate more on Reed's past, there had been more or less a couple of entries about it. The boy who was never good enough, always a mess up. I love how it wasn't the female character with the insecurities this time, because let's face it, boys and even GROWN MEN get insecure and their feelings get hurt too, probably not in the same way as we girls do. (Although he wallowed in self-pity almost the whole time, but it's a debatable act. He was going through things. LOL)
You know what I'm excited about now? AJ's book. He's described as a sweetheart and a lovable character, but I'm so sure that he's a monster in bed, even if Darcy doesn't seem to think so. He just wasn't the right guy for her.
Don't miss the first "After Hours" novel:
One Night of Sin
(After Hours #1)
Title:

Chasing Trouble


Author: Joya Ryan
Publisher: Entangled Publishing
Date Published: September 8, 2014
Goodreads | Amazon | Barnes & Noble
My Rating:

This book just got me from the very beginning, from the story line, to the characters and to Joya Ryan's writing style. I was expecting this book to be more on the angst-y side, judging from the synopsis, but there was only just the right amount of drama.
Jenna 'J.J' Justice, a Diamond kindergarten teacher, is in the works of getting her dream job at an after school program for the students. But despite her great teaching skills, people are still going to talk especially if your mother had been the town's home wrecker. Now that would suck a lot, wouldn't it?
Colt McCade is a professional bull rider, and after an accident and acquiring a riding injury, he's stuck back in Diamond, the place he'd sworn off to never return to, and ends up staying with his sister Lily and his adorable nephew, Alex.
"I want you. Tonight. No strings. No tomorrows. Just one night, no holding back."
J.J.'s off limits, especially because she's his sister's best friend, but the attraction between the duo can't be fought off. One night is all she asks, and then she's gone. But the moment Colt's back in Diamond, J.J.'s got her panties in a twist, because Rodeo Romeo's back in town. And let's not forget about the town ready to start talking when they find out about her relationship with Colt.
I love how this book is just steamy and adorable at the same time, plus the drama especially that it tackles a little bit about children's relationship with their parents.
J.J.'s relationship with her mother was just intense, and realizing there are terrible parents in real life is just heartbreaking.
But regardless the drama, as I've mentioned, this book is just really hot, with Colt and J.J. unable to control themselves around each other.
Joya Ryan's writing style makes me excited for the next books of this series, because there's also tension oozing from their group of friends.
Title: Melt For Him (Fighting Fire #2)
Author: Lauren Blakely
Publisher: Entangled Publishing
Date Published: September 8, 2014
Goodreads | Amazon | Barnes & Noble
My Rating:

Melt for Him was just filled with lots and lots of feels, my emotions all over the place. I love everything about this book was just emotional, and judging from the works of Lauren Blakely, she hit the spot again. I've always loved Lauren Blakely's writing style which I consider very relatable; romantic and sweet, with the right amount of fluff and steam.
Megan Jansen has sworn off men with dangerous jobs that barely keeps them home, specifically, firemen. After having lost her father at a fire emergency, the last thing she needs is to lose another one. She's got her brother, Travis, as part of the brigade, but she's sure to never be involved with one.
Fire captain Becker Thomas doesn't always want to be captain. Sometimes he just wants to be bar owner of Panting Dogs. An incident in Chicago molded him to what he is now: a broken fighter. One night with the artistic Megan, and he's got himself thinking about her all the time, even with the less bits of information they've shared about each other. Imagine his surprise when he finds out she's his best friend's sister.
The prodigal daughter's back home for two weeks, ready to put her artistic skills to use: the Annual "Man Candy" Fire Brigade Calendar. So, man candy they only are. Until she finds out the man wants a fling with, is also another fireman and her brother's best friend. Talk about awkward.
But nothing's ever awkward between these two, because everything just gets hot and on fire when they're around each other. And not to mention, fooling around behind her brother's back, even when he's already told them off.
"She was molten for him."
I just love how dramatic this book gets, especially when it gets deeper into the relationship. But it's got the right amount of steamy sexual tension oozing from these two. A little fast paced, but bearable. I love the characters as well, both main and the minor characters, most especially Travis. Such a total goofball.
Since this is a series, I'm assuming the rest of the fire brigade members gets their own book. And I'm hoping Travis is next in line.

Don't miss the first "Fighting Fire" novel:
ELLE KENNEDY
Goodreads | Twitter | Website

A RITA-award nominated author, Elle Kennedy grew up in the suburbs of Toronto, Ontario, and holds a B.A. in English from York University. From an early age, she knew she wanted to be a writer, and actively began pursuing that dream when she was a teenager.
Elle currently publishes with Harlequin Romantic Suspense, Harlequin Blaze, Samhain Publishing, and NAL. She loves strong heroines and sexy alpha heroes, and just enough heat and danger to keep things interesting!
JOYA RYAN
Goodreads | Twitter | Website

A mother and a wife. She loves to read, write, bake, cook, barbecue, baste, flambe'...basically anything regarding food you can assume her involvement. She also has terrible dance moves and unleashes them upon the general public often.
LAUREN BLAKELY
Goodreads | Twitter | Website

Lauren Blakely writes sexy contemporary romance novels with heat, heart, and humor, and her books have appeared on the New York Times, USA Today, Amazon, Barnes and Noble, and iBooks bestseller lists. Like the heroine in her novel, FAR TOO TEMPTING, she thinks life should be filled with family, laughter, and the kind of love that love songs promise. Lauren lives in California with her husband, children, and dogs. She loves hearing from readers! Her novels include Caught Up In Us, Pretending He's Mine, Playing With Her Heart, Trophy Husband, Far Too Tempting, The Thrill of It, Every Second With You, Burn For Me, Night After Night, After This Night and One More Night. In late summer, she'll release Melt for Him, the next book in her sexy fireman series, and in October she'll release Stars In Their Eyes, the next book in the bestselling Caught Up in Love series. She also writes for young adults under the name Daisy Whitney.