Happy Sunday Lovelies! Or Saturday, wherever you are in the world. I've been out a couple of days so I haven't updated much, I apologize.
Out of curiosity, I tried checking out romance books about filthy rich leading men, basically "billionaires" falling in love with common girls, or less richer ones (like us.) Just kidding~
Anyhoo, my "To Read" list has gotten longer, with all these author's I'm discovering, new and old. So I've decided to do a double review! Tadaaaaa! These aren't ARC, although Meeting His Match was just released a month ago (You can purchase it on Amazon and Barnes and Noble, I'll be sure to put a link below). Meanwhile, Played by The Billionaire has been out for a couple of months already but you can still purchase it online.
Don't you just love billionaire boys, their playboy stances or their ability to get you anything and anywhere with their unlimited cash or their oh so hot yet heartbreaking trust issues? Ohyes.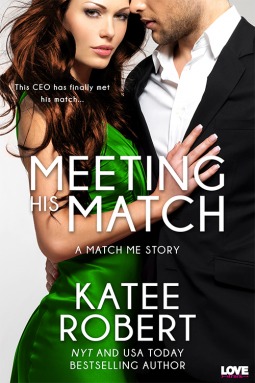 Title: Meeting His Match
Author: Katee Robert
Publisher: Entangled Publishing
Date Published: July 12, 2014
Goodreads | Amazon | Barnes & Noble
My Rating:

I've always wanted to read this novel ever since I saw the cover because the girl somehow looks like Nina Dobrev, one of my favorite celebrities and part of my top five celebrity girl crushes. (So now you know who I've imagined as the girl in this book.)
Meeting His Match is a first of the Match Me series and it features Addison St. Claire, a young widower working as a matchmaker and a big believer of soul mates. Once you've met yours, there's no one else. But when she's asked to work on Caine McCall and help him find his match, or rather "soul mate", things start turning upside down.
Addison believes that there can only be one soul mate forever. Her character somehow got to me because she's feisty and adorable and broken and miserable at the same time. Losing the love of your life and trying to move on, which is the reason behind her matchmaking business. It's quite overwhelming that such things also do happen in real life, losing someone important to you at a young age.
Now Caine McCall, he's the usual workaholic billionaire. The Mr. 'My-Company-Needs-Me' rich guy who spends almost every single night on his office couch. And according to Addison and his sister in law, he needs a little push out of his miserable zone. With Caine, you'd just drool and dream about him because he's the kind of guy who only wants one girl and that's it. He wants Addison, but she's fighting it because "soul mates". But he's quite the romantic once he falls in love. Which is just the most adorable thing in a guy, without being all macho about it.
The story plot is the usual contemporary romance, guy meets girl, guy wants girl, girl wants guy, girl's having second thoughts, girl wants guy in the end. It's the same thing, everybody falls in love. But with Katee Robert, she makes everything cute and funny. I love how the story's written with right amount of witty conversations to keep it fun yet sexy. This romance is just filled with sexual tension, you'd somehow get annoyed at Addison for even being able to fight it a bit. Like how can you fight all that sexiness?!?! HAH!
Everything is just fun and flirty, and would definitely want to read it again.
WARNING: Cute fluffy mop dog with four tiny mop puppies included.
Plus, if you've read "Seducing The Bridesmaid" from the Wedding Dare series, you might squeal when reading this. Because I definitely did.
Title: Played by the Billionaire
Author: Alexia Adams
Publisher: Entangled Publishing
Date Published: May 19, 2014
Goodreads | Amazon | Barnes & Noble
My Rating:

Played by the Billionaire was definitely an "OK" book. It centers on Liam Manning, a billionaire who's into computer softwares and basically a genius at that, who promised to finish the novel of his late brother. In order for him to do this, he needs to live the life of a regular guy and find romance which are part of the elements of the story. He chooses the perfect woman for the job, Lorelei Torres, the most regular woman he could find.
Liam Manning is definitely a character you wouldn't want to be with at first. In fact, you'd think he's a total jackass, despite doing someone a favor in his plans to woo Lorelei and leave her after he's gotten all the stuff he needs for the book. A clueless jerk in fact, you'd be turned off by the idea that he doesn't know a single thing about real romance other than parading around with blonde bombshells. But reading further, Liam is actually a romantic with a broken heart. He never breaks promises, especially the one he made to his late brother. In fact, he actually steps down for a while from working at the family enterprise in order to fulfill the project.
Meanwhile, Lorelei Torres, all she wants is the right guy and a family; the picket fence, the dog and running, noisy children. Basically, she's like any other family oriented middle aged woman, wanting to settle down with an honest man. Every woman can definitely relate to her. She's a sweetheart who always gets her everyday morning coffee at the same cafe and is never late.
As much as I adored the characters, the story plot wasn't quite appealing as I expected it to be. But the whole story was actually romantic, especially for those who fancy the "Love at first sight" scenario. As a reader, you'd surely want a guy like Liam Manning and a stranger at that, too woo you out of your socks.
If you're looking for a quick read about sweet romance, this is definitely for you.